Get Gourmet French Food On The Go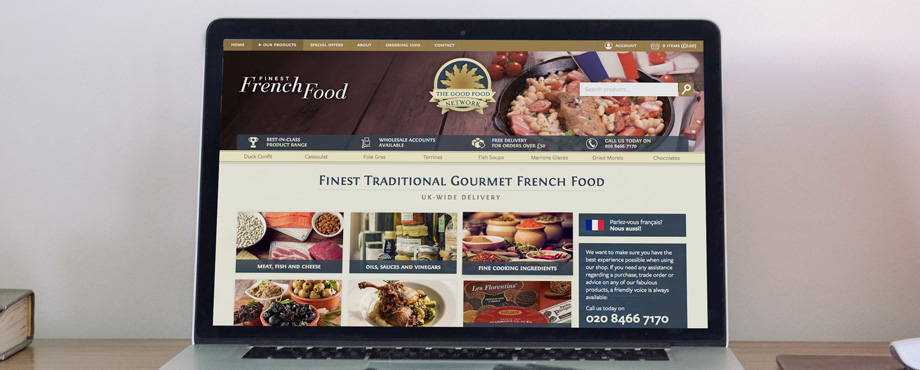 Did you know that one-third of all e-commerce sales are now made on a mobile device? And that figure is expected to rise to 50 per cent by 2020. It's a great opportunity for forward-thinking companies to capture a greater share of this growing market.
That's exactly why Christian Gimblett, Director of The Good Food Network, came to Pad Creative for an update of the company's website. The company sells gourmet French food including foie gras, cassoulet, duck confit and chocolates to retail and wholesale customers online. Christian explained: "We wanted a new, updated website aimed at making shopping on mobile phones easier. We've worked with Pad for over 10 years and trust them so we went to them straight away, and we weren't disappointed.
"The core part of our brief was a mobile-friendly website but we also asked for some new features to make browsing and the checkout experience simpler as well as marketing automation and live product feeds for Google shopping."
The result is an e-commerce shop built using WordPress + WooCommerce which has a great presence on Google – both organic and Pay Per Click – and is already very successful.
It is connected with Mailchimp Automated Marketing services, which enables the company to send out automated emails to customers who have logged in and placed products in the basket but not followed through with a purchase. There's also the facility to send automated recommendation emails to logged-in customers 24 hours after they looked on the site but added nothing to the basket.
Peter Jacobs, Pad's Director of Online Services, led the project. He said: "Mobile shopping was Christian's primary consideration so that was our main focus. We had an eye to the future, too, adding a lot more features that will allow us to be more agile when updates and new functionality are required. And, of course, we didn't neglect the design – updating it with a luxury feel to showcase the gourmet products on offer."
As website administrator, Christian finds the new site even easier to use and he is already receiving good feedback from customers who find it easier to navigate. He said: "Pad's updates have given us everything we asked for. I'm sure the design and functionality improvements will translate into sales."