Location, location, location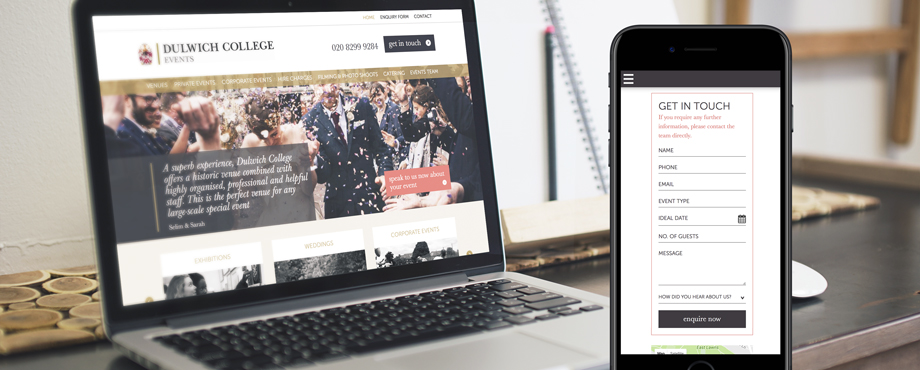 Dulwich College is an architectural gem. Founded in 1619, the historic buildings are available to hire for exhibitions, weddings and functions and they're the perfect backdrop for filming, too.
Pad Creative recently designed and built a stand-alone website for Dulwich College Events so that anyone looking for the perfect venue can find their way around the site with ease.
Head of Events Julia Metzner explained: "We wanted a simple, elegant site where the pictures tell the story. The college has such beautiful old buildings and grounds that the photographs really speak for themselves. Pad's clear designs give a snapshot of what's available and which rooms and buildings would work well for their functions. People can easily navigate their way round the site and browse to find the information they need.
"The new website has really helped us in the events team. We are getting more enquiries direct from the new site and we are emailing far fewer pictures since it went live – which saves us a lot of time. Now we can direct enquiries straight to the website to give people a good idea of the particular venue we recommend for their event."
Julia and her team had had a difficult experience some years ago with a different website designer so they weren't looking forward to the design process, but this time round it couldn't have been more different. "It was a very easy process," said Julia. "Pad had already done a website for the college's sports club so we had heard they were very approachable and friendly. They understood what we were after very quickly and were happy to make changes where needed and helped us work our way through the process. They were always happy to offer advice over and above the website itself. Working on this website was a joy in comparison to that painful previous experience!"
Pad's Riya Gandhi and Bex Blackett worked together on the design. Bex said: "Julia and her team wanted a clean, open feel to the new website so we used that as a starting point. To bring in some personality, I used the pattern from a floor tile in one of the buildings to create a subtle design in the footer as a branding device. This, combined with beautiful photography of the grounds and events, really showed off the venue. The combination of a restrained colour palette, use of fine key-lines, along with our choice of typefaces and the mix of colour and black & white photography, all bring an element of sophistication to the design. The result is a clean modern feel with classical enhancements to echo the traditional buildings."
And if you think Dulwich College looks familiar but can't work out where you've seen it before, it provided the backdrop for So Solid Crew's 2003 album cover Second Verse, it was the setting for Reese Witherspoon's 'Harvard' speech in Legally Blonde and the Great Hall also featured in the opening scenes of Tomb Raider.