Book tells the story of Joseph Levy's life and charitable work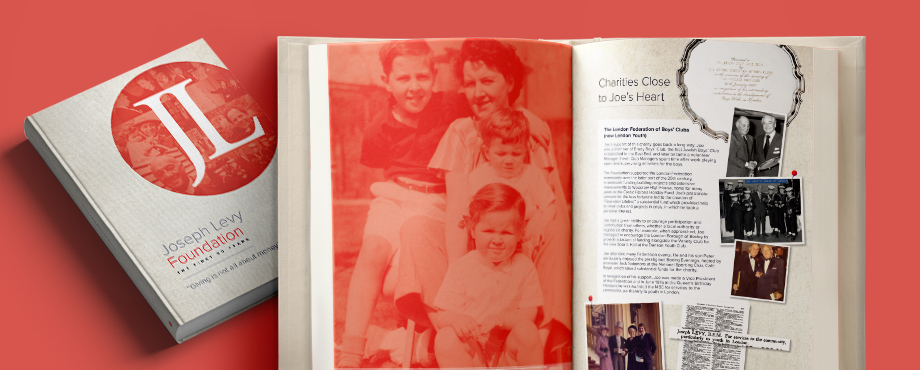 Joe Levy was a remarkable man. Born 1906 in Acton, west London, he started his working life as an office junior in an estate agency, working his way up to become one of London's premier property developers.
Kind-hearted, principled and hard-working, Joe never forgot his roots or his good fortune and spent much of his life helping others. As his fortunes rose, he used his connections to help the causes close to his heart, raising thousands of pounds for charity in the process. The Joseph Levy Foundation, established in 1965, is a key part of his legacy.
Now, more than 50 years later, the Foundation remains a family affair and Joe's children and grandchildren make up the Trustee Board. Earlier this year, the Board commissioned a book on the history of the Foundation to inform younger generations and help them decide how they might become involved in future. Director of the Foundation, James Fitzpatrick, worked with one of the charity's trustees who led the project. He said: "We were looking for one company to manage the design and print of the project, and we chose Pad Creative. The book is a one-off and we had very little experience of producing such a publication so some aspects took longer than expected but Pad were very easy to work with – imaginative, adaptable and patient."
The book is very much a visual representation of Joe's life and work. The dozens of original photos show Joe and his family at work and play, clearly evoking his sense of fun and fair play. For Pad's designer, Bex Blackett, designing the book was a labour of love. She said: "The photos – both old and new – were a joy to work with. Handling them gave me great respect and a real connection to the project. Each page was different to the next, enabling the creativity through the layout to come through, and making the design process interesting from start to finish."
Only 75 copies of the book have been printed, making The History of the Joseph Levy Foundation a true keepsake. James said: "We have had very positive comments from of the people featured in it – both in relation to the feelings and memories it evokes and in relation to the information it contains about the Foundation's work. We think it has achieved what we originally intended – to be an accessible record of the Foundation's origins and activities in its first 50 years."