Building a brand with firm foundations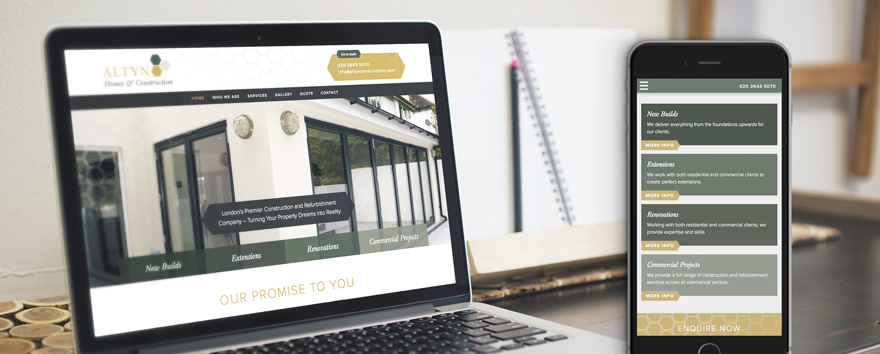 Solid foundations are important for any new venture – and builders know that more than most. So when Aizhan Nurdauletova and Halit Hakseven were setting up Altyn Homes & Construction Ltd, they looked for a design company that could help them build the brand – starting with those firm foundations.
"We were looking for a company that understood what we wanted," they said. "We wanted our branding to communicate that we're more than standard house-builders. And we were looking for much more than a logo, we also wanted a good website and high-quality marketing tools including leaflets, banners, signs and business cards – the full package to represent what we do and to stand out from the crowd."
But their initial search was fruitless. Nothing really caught their attention, until one day they were driving past another construction site and saw the name Pad Creative on the advertisement boards. They decided to take a closer look at the Pad website, liked what they saw and so contacted Business Development Director Jon Garrard. "He instantly knew what we were after and put us in touch with Joe, who went on to create all our branding," they said.
This was an exciting project for Joe. His idea of a honeycomb device proved effective, not just to convey construction, but also as a versatile design device to frame pictures and information. The gold, grey and green colours add to the elegance. "That was all Joe's idea, said Aizhan. "He was absolutely brilliant and an absolute pleasure to work with. He really paid attention to what we wanted and picked up on small details. The result is an amazing logo that works well in all our branding.
"We would highly recommend Pad to anyone looking for unique, creative high-quality design. They listen to what you want, make really good suggestions and deliver great results – exactly what we were looking for."
Learn more about our Brand Design service