In Concert with Trinity School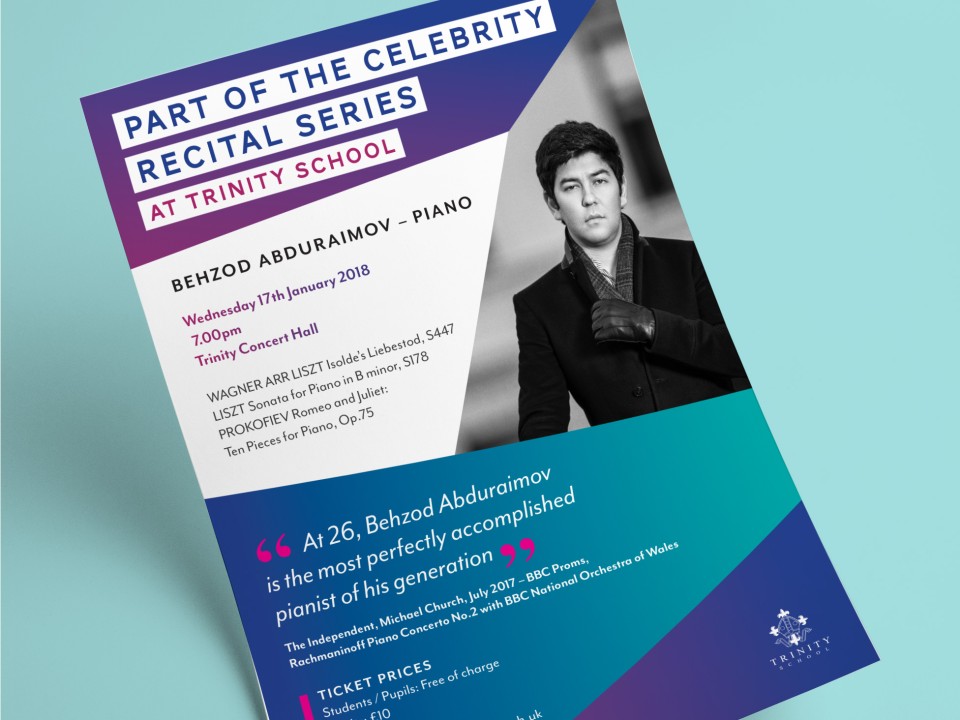 You know a school is special when it can host concerts by internationally acclaimed musicians. When Croydon's Trinity School opened its new Music School, the celebrations included a series of three concerts with a prize-winning Uzbek pianist, a piano trio fresh from London's Wigmore Hall, and an Italian virtuoso duo who had just clinched Classic fm's album of the week. This was a series of concerts not to be missed.
The concerts were open to the whole community and Trinity School asked Pad Creative to design the advertising material.
Trinity's Marketing Manager Katie Eynon, said: "We have enjoyed working with Pad for a number of years – they have helped us with several print design projects including prospectuses, newsletters and promotional material – so I knew they would be great at responding to this particular brief. They know the school really well, and have a great team of designers, so they were naturally our first port of call."
Ilonka Ligteringen was Pad's designer for the project. She said: "I really enjoyed this project and working with Katie. We were given a lot of creative freedom for this work and decided to go with an angular, colourful and modern design to promote all three concerts in one leaflet, and then repurpose the artwork for posters and social media content, too. It was great to see the whole family of promotional material work together.
Katie was delighted with Ilonka's solution. She said: "We had a fantastic response from senior colleagues, the Music Department, parents, colleagues and pupils – comments included how fresh and modern it looked, and I think people were happy that it reflected the new and exciting future for Music at Trinity.  The concerts all proved very popular, so we are looking forward to seeing how the series develops in the months and years to come.
Did you know?
Trinity Boys Choir is the only school choir to be invited to sing regularly in the BBC Proms Festival.
The Choir appears regularly at The Royal Opera House, in the Glyndebourne Festival, and with the major London orchestras.
Every new boy who does not already play a musical instrument is offered free lessons on an instrument of their choice.
More than half the boys in the school regularly take part in a musical activity and there are more than fifty groups rehearsing each week. Ensembles include two symphony orchestras, four string orchestras, three wind bands, three big bands, five choirs and numerous chamber groups.