Retro design solution for cutting-edge conference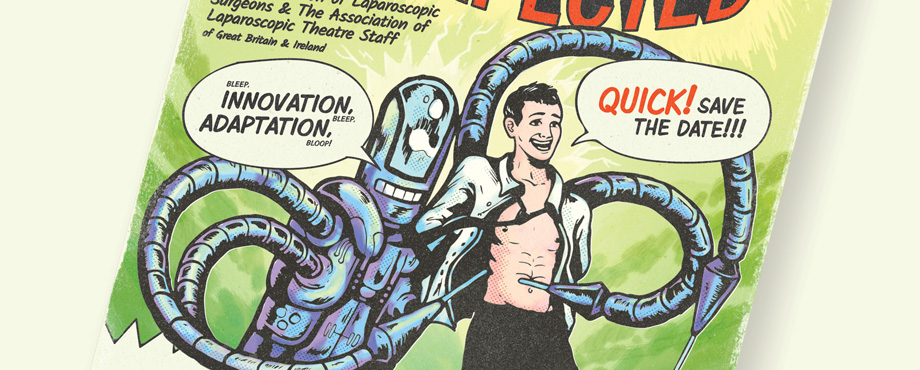 Q: How do you get your conference material to stand out from the crowd?
A: Ask Pad Creative to design the publicity material and give them an open brief.
For the scientific community of keyhole surgery, ALSGBI, the result is advertising that really packs a punch – and raises a smile.
ALSGBI (Association of Laparoscopic Surgeons of Great Britain and Ireland) is the UK & Ireland's professional association for laparoscopic surgery. When Fundraising Director, Sarah Williams, was organising the Annual Scientific Meeting in Cardiff, she wanted something that stood out from the sea of more conventional flyers and promotional material associated with the industry. She approached Pad with a simple brief: fresh ideas and eye-catching artwork.
Adam Bishop was the designer for this project. He said: "Sarah gave us a completely open brief with the working title: Wales of the Unexpected so this was a really fun project. Laparoscopic equipment is really cutting-edge (excuse the pun!) so it fitted perfectly to use a futuristic science fiction theme. I played around with some imagery from old vintage Tales of the Unexpected Space Rangers comics and the theme developed from there.
"We took the project step by step, initially creating thumbnails of a few different arrangements to run past the client. Once these were approved I then fleshed the out into fuller 'inked' illustrations, then I coloured the piece, and finally I added the textured effects to give it that vintage look. Sarah and her team were very much a part of the process every step of the way. The project was a leap of faith from Sarah's perspective and we're so grateful she took that risk. I love the final artwork and hope it plays a part in making the conference a big success."
Sarah said: "Pad were recommended to us a couple of years ago and I've always found them efficient and creative so I was confident they would come up with fresh ideas. A lot of delegates have commented on how the artwork really stands out – and that's exactly what we wanted to achieve."