Exhibition stands are a hit for Aston Scott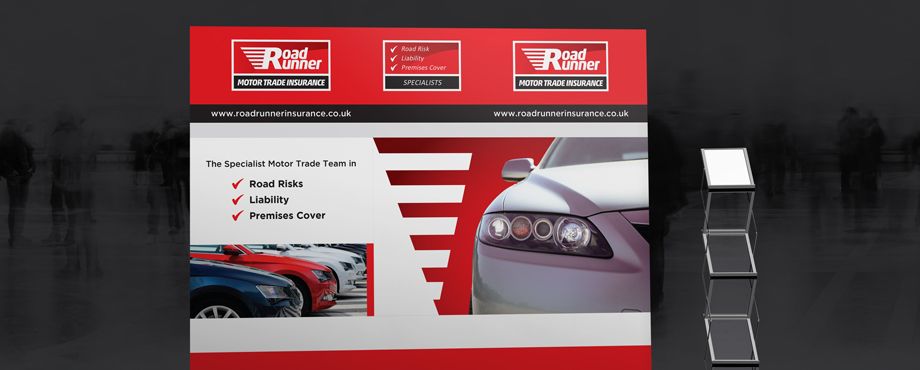 When Insurance Brokers Aston Scott needed exhibition stands for a forthcoming event they came to Pad Creative. The stands were needed to publicise Road Runner, the company's motor trade insurance product.
Jane Lindekam, Aston Scott's Group Marketing Assistant, explained: "Pad were able to provide us with a design and manufacture facility that was quick and also good quality. Visitors needed to be able to read all the necessary information at a glance. We also wanted the stands to have a long-term life so we could use them again. We gave Pad quite a scant brief and relied on their expert designers to create something eye-catching. We provided some existing artwork, background information about the product and a rough idea of what we needed – they did the rest! They came up with three great designs that allowed us to pick the overall look and then we tweaked the details to exactly what we needed."
Pad Designer Joe Foskett was in charge of the project. He said: "It was a pleasure to work with Jane and her colleagues. They were pleased with our initial designs and just had a few amendments before the whole project was signed off. We have a partnership with FlexeStand so the project went smoothly at the production stage, too. All-in-all, it was a great job from start to finish."
In fact, Pad did such a good job that Jane approached them soon after to create similar stands for another of Aston Scott's products. This time it was Renovation Plan, an online insurance facility for renovation works. Again, the project went ahead with no hitches.
"We have received a number of positive comments from customers and visitors to the exhibitions, as well as our staff, who are proud to stand in front of the stands," said Jane.
So, if you're looking for exhibition stands, Pad have got it covered.