Cheers!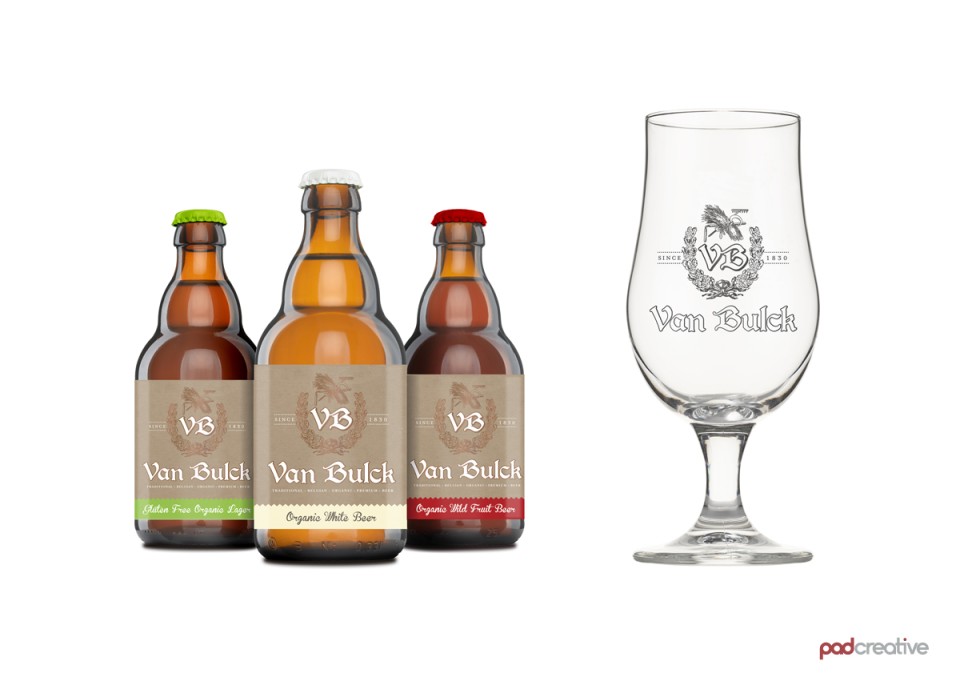 Pad designers love design whatever the project. But we love it even more when it involves one of our favourite products. So there was a real buzz in the office when we were asked to design branding and labels for a new range of organic beers.
Adam Bishop was the lucky guy in charge of the project. He said: "Our brief was to create a brand for three new traditional Belgian organic premium beers called Van Bulck. It's always exciting to create a brand from scratch but this time round I may have been extra thorough at the research phase while I checked out the competition!"
The client, Denis Renty, was very pleased with Adam's work. He said: "I've been working on the Van Bulck project for a year now. We have created three different beers. One is a gluten-free organic lager, there's also an organic white beer and the last is an organic wild fruit beer made with seven different fruits. It wasn't easy to find the right ingredients and the right brewer but now we've done it I'm very proud of the result. Pad have done a great job with the branding – it really represents the traditional premium Belgian feel I was looking for but Adam has also given it a contemporary edge.
"I chose Pad because they were recommended by a friend. I liked what I saw and felt very confident when I met them face-to-face. Our first project together was a biscuit brand and they were the perfect choice for the Van Bulck beer branding."
An ex-chef, Denis trades Belgian foodstuffs throughout the UK and Ireland. His products are on sale in delis and restaurants across the country – and even at the Ritz. Van Bulck beers will be available at The Tunbridge Wells Hotel in Tunbridge Wells, La Trappiste in Canterbury and many more pubs and restaurants throughout Kent from May onwards.