Fresh site for Hard Hat Catering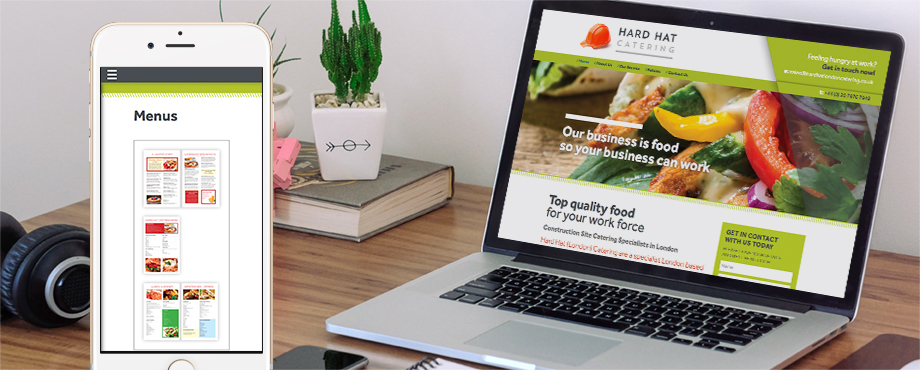 When Mario Cattini was looking for a company to build a website for his catering company he turned to Pad Creative.
Hard Hat (London) Catering does what it says on the tin – providing specialist catering services to building sites in London and the South East. Mario was looking for an informative website outlining everything the company can provide in one readable, user-friendly place. He said: "We didn't have a website for this particular facet of our business and we needed something that people could consult when they are looking for a catering partner for future projects.
"We chose Pad because they came highly recommended – and we weren't disappointed. They came with lots of ideas, good preparation and follow-ups. They were excellent to work with. They understood the brief, were in tune with our vision and never put me under pressure. That gave me a lot of confidence in them."
Pad chose a clean design with a fresh, bright colour palette of orange and green, reflecting the company's branding, while also subtly indicating the wholesomeness of the healthy ingredients available in Hard Hat Catering's meals. The strapline: 'Our business is food so your business can work' reinforces that message, too.
The website has been up and running for a year now and it's proved a real asset to Mario's business. "We've had favourable comments," said Mario. "It doesn't follow the usual lines of other catering companies and that helps us stand out as fresh and different.
"Our business is long-term and not reliant on daily sales. Potential clients visit our website when they are researching caterers for projects planned up to 12 months in advance. It's given us a presence we didn't have previously and the opportunity to reach potential clients who may not have known about us before."
And for anyone looking for a catering partner, this website is ideal. It's easy to read, straightforward to navigate and if you want to delve deeper and investigate the company's credentials, that information is there, too – all in a user-friendly format. It's a recipe for success.