Four into one for PLG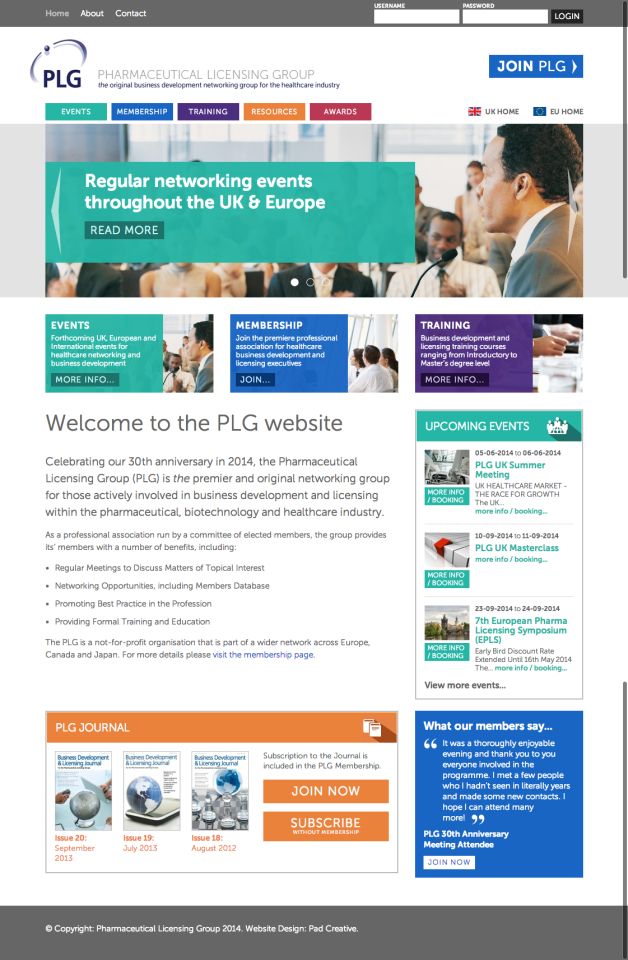 Check out one of our latest websites, www.plg-group.com. It may look modest at first sight but it's actually a bit like a Tardis – it's only when you enter and explore that you discover its size. That's because it has combined the content of four different websites into one while retaining the functionality of all four originals.
Pad's Director, Pete Jacobs, led the project. He said: "Our client, The Pharmaceutical Licensing Group, had four different sites – one each for the UK, Europe and Benelux, plus a training site which held information on all the courses the PLG provides as well as access to the course reference material. They wanted to combine all that information so that their members could find everything they needed in one place. And they wanted a site that was user-friendly for visitors, members, students and admin staff.
The new site incorporates a lot of functionality – members and students can log in and search the library, find out about PLG events then book and pay for entry to an event. And users who log in to an event can get access to that event's downloads as well as access to a delegates' messaging system where attendees can message each other without their email addresses being published – avoiding email overload caused by mass marketing. A separate members search function allows logged-in members to look each other up so they can make contact with each other.
The 'Search the Library' facility allows logged-in users to search through a large repository of PDF files. Building this resource was a complex and painstaking task. Pete explains: "There is no native way to search the content of PDF files on the web so we created custom functionality that breaks apart the content of PDF files on the server when it is uploaded and all the text content is copied out and put into the database so it can be indexed and then searched.
"We are really pleased with the way the project has gone, but going live was the big test. There were a few initial teething problems but we fixed them quickly and the site is now working really well," said Pete. "We spent a lot of time making sure the back end is as easy to use as possible and the client is already adding and editing content. We've had great feedback. One student told commented: 'The new, updated website is much easier to navigate and very intuitive, great improvement.' That's exactly what we wanted to achieve so we're delighted."