Brochure hits the mark for Parr London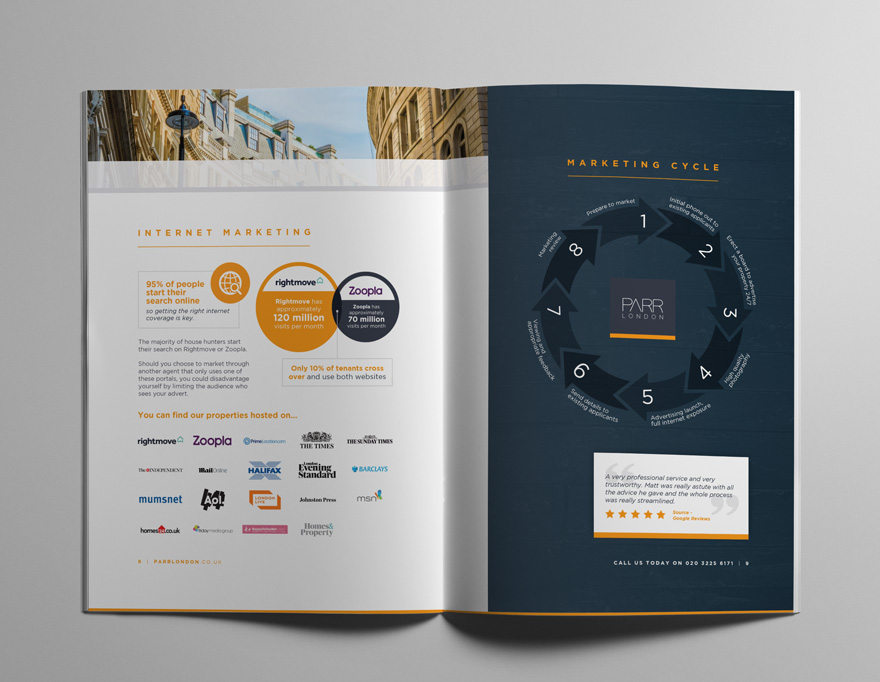 Moving home is a big decision so it's important that buyers, sellers and renters have all the information they need when choosing the right estate agent. That's why Matthew Parr chose carefully when appointing an agency to design Parr London's brochures.
He said: "Parr London is an independent estate agency and our reputation is paramount. It's important to us that our clients have everything they need to make an informed decision. Our brochures are an extension of our brand so it was essential to get the brochures right. I felt comfortable with Pad right from our initial conversation and knew they would deliver what we wanted.
"Our brief was to create a modern, high-quality brochure that I can use at appointment stage to talk through the services we offer at Parr London. Adam was the designer in charge of the project. He understood exactly what we were after and delivered a great design that really works for us."
It was an exciting challenge for Adam because it was a chance to work with Parr London's logo and develop it for print. He said: "Parr already had a bold, two-colour palette and strong logo. This project gave us the chance to evolve the branding and create two modern brochures – one for lettings and one for sales – each using the same design but showcasing Parr London's quality offer.
"Our inspiration came from high-end magazines and luxury boutique furniture marketing. The type treatments are minimalist and contemporary while the focus is on legibility and good text hierarchy. We also produced infographics to communicate some of the key information. Matthew agreed on the layout early on so it was very easy to move the project forward quickly. This project was a genuine pleasure from beginning to end."
And Matthew is delighted with the end result. "I love using the brochure at valuation stage and I am convinced it was allowed me to secure more business." Which just goes to prove that good design can look good AND have an effect on a company's bottom line.