Discover the right places to visit in Spain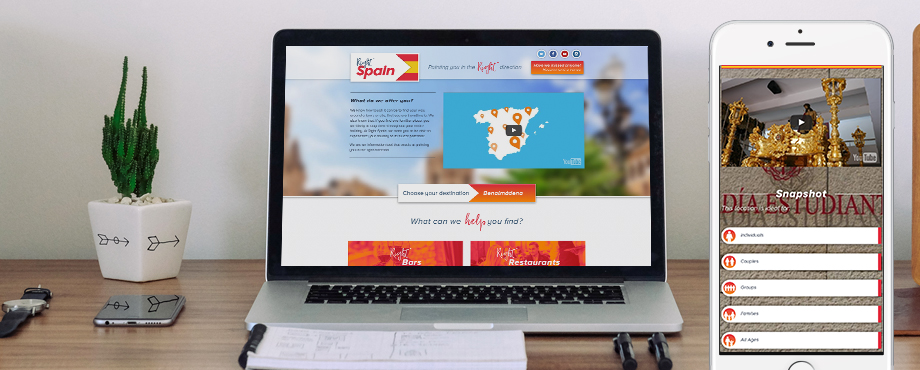 Planning a trip to Spain? Look no further than www.rightspain.com, the website that shows you all the best places to go and points you in the right direction.
Right Spain is the brainchild of James Maher, who spotted a gap in the market for a simple, informative website giving advice on where to go and what to do when in Spain. Along with its ease-of-use, the real genius of the site is how everything you need to know is all available in one space, with no unnecessary extras. Decide on a destination, choose an attraction, bar or restaurant and you'll be able to view a YouTube video to get a feel for the place while checking out its location on Google maps. Simple icons indicate value for money and whether the place is family-friendly or great for nightlife. And it's all available via Twitter and Facebook, too.
James works alongside a videographer and website content manager, with a sales team on the ground in Spain. He said: "We love Spain and Spanish culture. Put that together with social media on one big platform and you get Right Spain!
"Too many websites are confusing and full of unneeded dialogue which just switches people off. We wanted a simple web design that's full of information but easy to use."
James chose Pad Creative to design and build the site. "We loved Pad's own website – it's exactly what we wanted for Right Spain so we were really happy when we met the team and found they are an absolute pleasure to work with. They took our ideas on board, listened to what we needed and everything just fell into place."
Rightspain.com is simplicity itself to use, but that belies a complex filtering system packed with information. For Pad's web developer, Rowan Campus, getting the functionality to work correctly was one of the most challenging aspects of the build, but very rewarding when he realised he had cracked it.
The back end of the website is streamlined so it's easy for James and the Right Spain team to add new places as they are available. Rowan explained: "This was one of the key aspects of the brief so it was important for us to maximise versatility as the site is fully content-managed which means the client has total control and can add content in future."
The site went live at the end of June, just in time for the peak holiday season. So far, it covers bars, restaurants, activities and services in Benalmádena and Málaga with Catalunya soon to follow. "We plan to expand in the coming months to many regions of Spain," said James. "We're lucky to work with some helpful bar owners and restaurateurs who allow us to display their establishments on our website. We meet them regularly to ensure we get the best and most up-to-date information as possible."
So next time you plan a trip to Spain leave the bulky guidebooks at home and check out Right Spain instead. You can use the extra room in your luggage for souvenirs and duty-free.