We're supporting Bring Your Dog To Work Day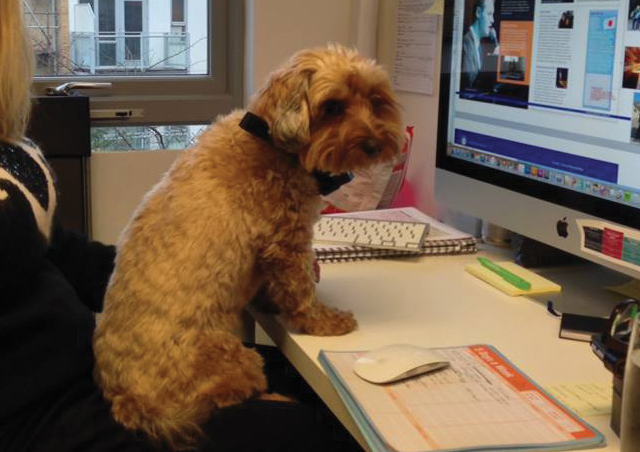 Friday 24 June is Bring Your Dog To Work Day and Pad Creative's resident pooch Winnie will be celebrating with a little snooze under the desk, a lunchtime walk and a couple of doggie treats in the afternoon.
Winnie is a 20-month-old Yorkipoo (a Yorkshire Terrier/Toy Poodle cross). She belongs to Alison Steward, Pad's Director of Creative Services and she's been part of the Pad team since she was a puppy.
Winnie is a very sociable little dog who loves coming to work. She's generally well-behaved and sometimes even goes to meetings with Alison – though she must be on her best behaviour. Like any two-year-old, she loves to play and the Pad designers are trying to teaching her tricks – with some success – but training her not to bark at couriers is proving a tougher challenge!
Designer Ilonka Ligteringen, said: "Having Winnie at the office is wonderful. The best Winnie-time is in the morning when you first see her – she is such a ray of sunshine. I love spending time with her and trying to teach her tricks. We get to dress her up on special occasions and she even sported a pink feather boa at my office hen do."
Designer Joe Foskett agrees. He said: "I think everyone likes watching her playing, and it definitely helps make it a low stress studio, to take a little break and give her a stroke or sit her on your lap."
Leah Martin, is another Winnie fan. She said: "I think having Winnie in the studio is great! Sometimes when you are feeling slightly under pressure there she is wagging her tail, waiting for a cuddle and you can't help but relax!"
The Pad team are already convinced of the benefits of working with Winnie but for anyone who hasn't yet been won over, scientists say that pets can substantially reduce a person's stress level in the workplace because they help to lower blood pressure and heart rate.  Increased job satisfaction, team co-operation and morale have all been reported in employees that spend the workday with their pets.
Bring Your Dog To Work Day is organised by HOWND and raises money for All Dogs Matter, a charity that rescues and rehomes more than 300 dogs a year in London, Norfolk and the surrounding areas. All the dogs in their care are either strays, are relocated from pounds, or simply come from owners who can no longer care for them.
For more information, contact Alison at Pad Creative: alison@padcreative.co.uk, Tel: 020 8662 6030
More information on Bring Your Dog To Work Day here.