Putting Greens Executive in the driving seat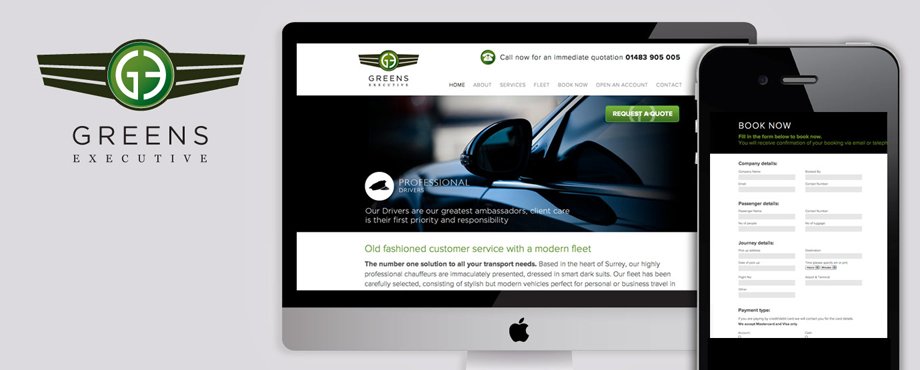 Newly established companies need eye-catching branding and websites to help them stand out from the crowd. Surrey-based executive chauffeur firm, Greens Executive, was looking for a design company that could give the company a visual identity reflecting the luxurious, discreet and efficient service offered to its customers. Operations Director Rahan Qureshi chose Pad Creative and he's delighted with the results.
He said: "Our brief was to create a brand selling our high-quality customer service with a luxurious feel. We chose Pad because of the quality of their work, competitive pricing, friendly and approachable service and when we met the team we felt they would be able to do the best job for us."
Senior Designer Jon Garrard created the logo, branding, website, stationery and promotional brochure. He said: "We designed a logo that has the feel of a quality car crest to reflect the company's values. I'm really happy with the way the branding has developed through all the collateral. It's an added bonus that the Greens Executive team are a really nice and friendly bunch of guys – exactly how we like our clients to be!"
In fact the two teams had such a great working relationship that Rahan asked Jon to help with another project. Rahan and his colleagues are trustees of the Ribat Institute, a local grassroots charity. One of the Institute's supporters had an ambitious plan to raise money to help fund a new education and community centre by undertaking 11 extreme challenges in 11 days. It was a bold project involving skydiving, caving, bungee jumping and swimming with sharks and it needed a website to spread the word.
Pad rose to the challenge, creating www.onemanchallenge.com. "It's a great cause so we were happy to help and offered consultancy advice in addition to our design expertise," said Jon.